CND: Certified Network Defender
The Certified Network Defender v2 is a vendor-neutral, hands-on, instructor-led comprehensive network security certification training program. It is a skills-based, lab intensive program built to incorporate critical secure network skills - Protect, Detect, Respond and Predict Maps to NICE 2.0. Comes packed with the latest tools, technologies, and techniques, Deploys a hands-on approach to learning, Designed with an enhanced focus on Threat Prediction, Business Continuity and Disaster Recovery .The course is designed and developed after extensive market research and surveys.
Audience
This course is for all cybersecurity operations and roles, and anyone looking to build a career in cybersecurity.
Typical audience for this training are those who work in the network administration, cybersecurity domain as Network Administrator, Network Engineer, Network Security Administrator/Engineer/Analyst, Cybersecurity Engineer, Security Analyst, Network Defense Technician, Security Operator.
Prerequisites
To attend this course you should have fundamental knowledge of networking concepts.
Benefits
The end goal of Certified Network Defender (CND v2) is to help Blue Teams defend and win the war against network breaches in a post-pandemic world. The program is the ideal cyber defense course for organizations and individuals for the following reasons:
Based on Common Job Role frameworks recognized by organizations around the world.
ANSI/ISO/IEC 17024 accredited Certification Program.
Mapped to the NICE 2.0 framework.
Focuses on latest technologies including Cloud, IoT, Virtualization and Remote Worker Threats, Attack Surface Analysis, Threat Intelligence, Software Defined Networks (SDN), and Network Function Virtualization (NFV), as well as docker, Kubernetes, and container security.
Covers the latest tools, techniques, and methodologies used by top cybersecurity experts around the world.
Tactical defense of cloud services! Learn different ways to ensure security across various cloud platforms: Amazon Web Services, Microsoft Azure, and Google Cloud Platform.
This course has a strong focus on the strategical domain with special attention to adaptive & defense in depth security, framing network policies, achieving compliance, and the operational domain to learn the implementation of the above decisions.
CND v2 puts the spotlight on perimeter defense as the latest technologies have made networks too complex for everyone. Perimeter defense can help with modern security requirements.
An Adaptive Security Strategy
CND is an adaptive security strategy built on a 4-pronged approach — Protect, Detect, Respond, and Predict. This approach not only proves effective in responding to a network attack but stops them before they happen.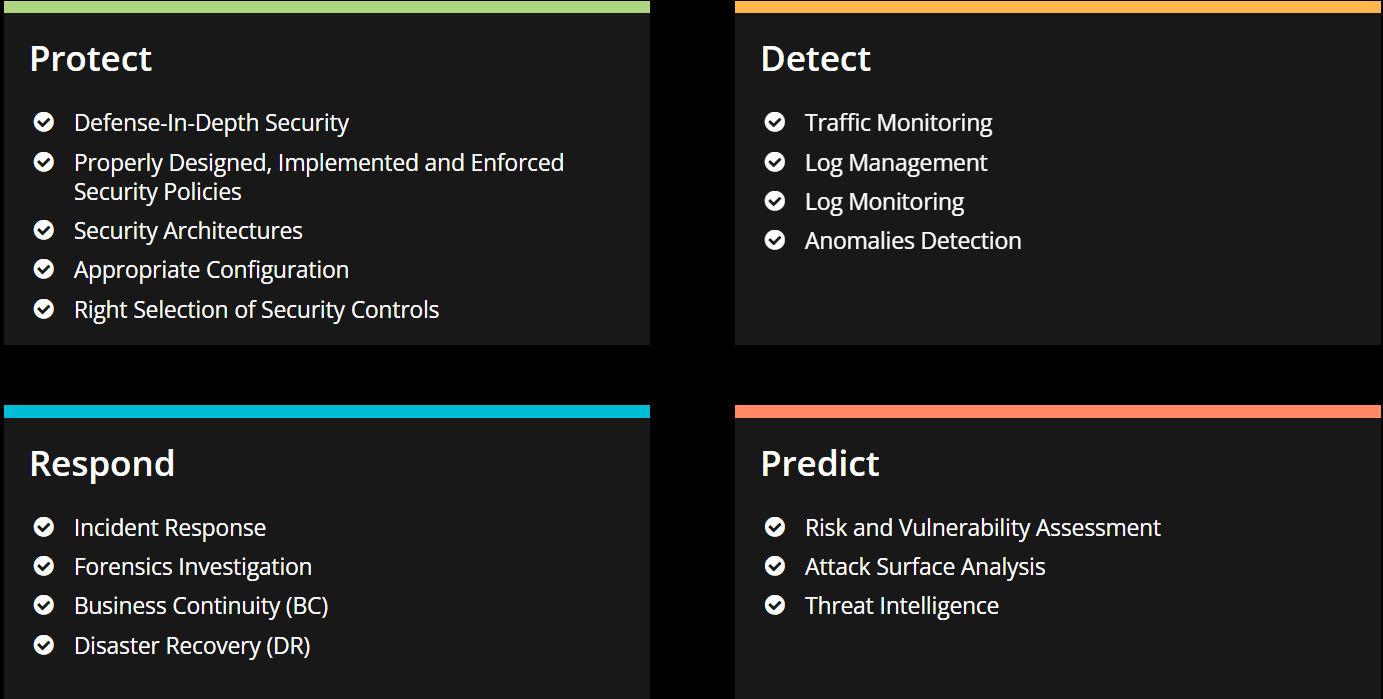 Course outline
Module 01: Network Attacks and Defense Strategies
Module 02: Administrative Network Security
Module 03: Technical Network Security
Module 04: Network Perimeter Security
Module 05: Endpoint Security-Windows Systems
Module 06: Endpoint Security-Linux Systems
Module 07: Endpoint Security- Mobile Devices
Module 08: Endpoint Security-IoT Devices
Module 09: Administrative Application Security
Module 10: Data Security
Module 11: Enterprise Virtual Network Security
Module 12: Enterprise Cloud Network Security
Module 13: Enterprise Wireless Network Security
Module 14: Network Traffic Monitoring and Analysis
Module 15: Network Logs Monitoring and Analysis
Module 16: Incident Response and Forensic Investigation
Module 17: Business Continuity and Disaster Recovery
Module 18: Risk Anticipation with Risk Management
Module 19: Threat Assessment with Attack Surface Analysis
Module 20: Threat Prediction with Cyber Threat Intelligence
Read detailed course description from EC Council:
CND: Certified Network Defender
Certification
Exam Details
Exam Title: EC Council Certified Network Defender
Exam Code: 312-38
Number of Questions: 100
Duration: 4 hours
Test Format: Multiple Choice
Passing Score: 70%