ISO/IEC 27002 Lead Manager
The ISO/IEC 27002 Lead Manager training course enables participants to develop the necessary knowledge and skills for supporting an organization in effectively determining, implementing, and managing information security controls. The training course provides information that will help participants interpret the ISO/IEC 27002 controls in the specific context of an organization.
Audience:
This training course is intended for:
Managers or consultants seeking to enhance their knowledge regarding the implementation of information security controls in an ISMS based on ISO/IEC 27001
Individuals responsible for maintaining information security, compliance, risk, or governance in an organization
IT professionals or consultants seeking to enhance their knowledge in information security
Members of an ISMS implementation or information security team
Prerequisites:
The main requirements for participating in this training course are having a fundamental understanding of ISO/IEC 27002 and comprehensive knowledge of information security controls.
Certification
After successfully completing the exam, you can apply for the credentials shown on the table below. You will receive a certificate once you comply with all the requirements related to the selected credential. For more information about ISO/IEC 27001 certifications and the PECB certification process, please refer to the Certification Rules and Policies.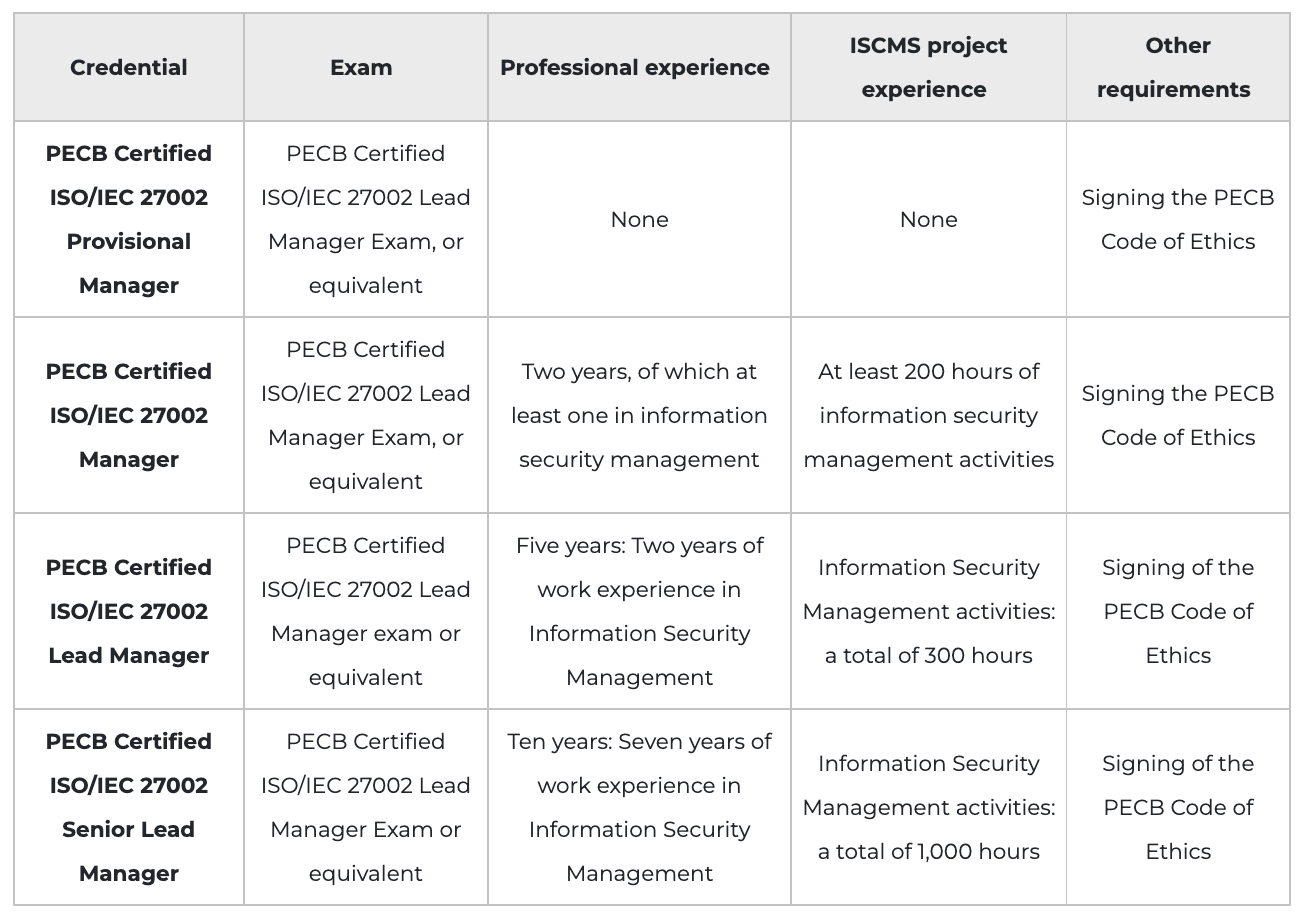 Agenda:
Introduction to ISO/IEC 27002
Information security roles and responsibilities, people controls, and physical controls
Information security assets, access controls, and protection of information systems and networks
Information security incident management and testing and monitoring of information security controls based on ISO/IEC 27002
The exam is will take place at the end of the course on onsite classroom courses

For Virtual courses we will send out a voucher that gives you access to an online exam. This can be booked and taken home monitored by a proctor via camera. More information about the exam rules will be send from PECB

Duration: 3 hour (+ 30 min extra time for non-native)


The exams an Essay Type; candidates are only authorized to use the following reference materials:

A copy of the standard (candidates need to bring their own copy of the standard).
Course notes from the Participant Handout. (If applicable)
Any personal notes made by the student during the course. (If applicable)
A hard copy dictionary

Examination rules and policies